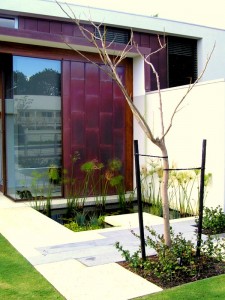 This sleek, stylish and modern residential garden accentuates the angular, architectural style of the house, adding colour, texture, and fragrance.  A solar passive design, incorporating deciduous trees for light and warmth during winter, and cool shady foliage during summer, combined with the use of Dichondra between steppers to minimise heat retention, and aiding in drainage, help to keep the house and garden at optimum temperature throughout the year.
A beautiful water feature with water plants and fish at the front door creates a tranquil welcoming to the home.  Water wise strappy leaved plants of varying colours add vibrancy, and lovely perfumed plants exude sweet fragrances for extra enjoyment.  The house is predominantly greys and white, so the use of varying vibrant coloured foliage and different textures, especially when the deciduous trees change colour in autumn, adds a spectacular, ever changing element.
The pool area is stunning. With the Swan River as a backdrop, the crisp lines, stainless steel and glass let the surroundings in to the landscape as one relaxes and takes in the view.
---
---